Gift Card Platform for Local Businesses
In response to the COVID-19 pandemic, Local First Victoria created SupportYYJ, a gift card platform to allow customers to purchase gift certificates for local, independent businesses in British Columbia. This helps allow businesses to maintain some cash flow during the economic crisis that faces us. 
LOCO, Vancity and other partners are working to expand the program to other areas of the province. The platform is now SupportLocalBC​​​​​​ and includes many communities across the province.
Community and regional economic development organizations are providing the funding so that the local, independent businesses in their city/town/village can participate. View all the communities participating and if yours is on the website, then add your business.
If you would like to have your business included on this website, please complete our form and we'll get you added.
If your community is not listed on this website, you can still complete the form. The SupportLocalBC team will reach out to organizations in your city/town/village to let them know about the initiative and how your community's businesses can participate.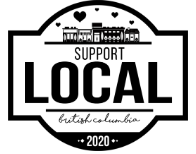 ​​​​​​​