The Real Estate Foundation of B.C. recently reported that 90% of B.C.'s population believes we should grow more of the food we consume. It also found that 50-75% if ALR land in Metro Vancouver is not in active production, and that much of the $8.6 billion spent in southwestern B.C. on food is on food grown and processed elsewhere. What are the issues that contribute to the lack of food security and how can businesses and consumers contribute to fixing the current system? Aphrodite's host a discussion of sustainable food systems with some of their supplier-partners, including UBC's Farm's Feeding Growth Program. Come and hear what ingredients are needed to cook up local food success stories, and what key challenges face the agents of a local sustainable food system, from growers and producers, to manufacturers and retailers.
Our Host
Aphrodite's is more than a restaurant and pie shop, it's a community fiercely dedicated to wild, organic, local and sustainable food. They work directly with local farms and producers to ensure that their menu has the smallest ecological footprint possible. They're a home for the sustainable food movement in Vancouver, supporting local farmers, producers, artists, charities and non-profits. Although they make fabulous pie, for Aphrodite's, it's bigger than pie – it's food you can feel good about. See more about Aphrodite's story below.
Our Partners
UBC Farm is a certified organic 24-ha teaching and learning space, and integrated production farm that grows over 200 varieties of fruits, vegetables, and herbs, and also features honey beehives and egg-laying, open-pasture hens. They house the Centre for Sustainable Food Systems, a living laboratory working to understand and fundamentally transform local and global food systems towards a more sustainable, food secure future, and coordinate Feeding Growth, an initiative that supports progressive, BC-based food brands and entrepreneurs.
Event Details
5:30-6:30 pm Arrive, Mingle, Enjoy Food & Drinks

6:30-7:30 pm Welcome from Hosts & Dialogue on Sustainable Local Food System (panelists: Peggy Vogler, Aphrodite's, Véronik Campbell, UBC Farm/Feeding Growth, Randy Hooper, Discovery Organics)

7:30-8:30 pm Mingle, Enjoy Food & Drinks
The cost of tickets raises funds to support LOCO's work to build stronger communities, and support independent businesses in B.C. through programming and research. THANK YOU for your support!
The Story of Aphrodite's
It began with founder Allan Christian, born and raised on a Saskatchewan farm, whose adventurous spirit led him to the West Coast, and from the corporate world back to his roots on Glen Valley Organic Farm Co-op. Baking pies with using organic heritage apples that had fallen from trees in the orchard with his mother sparked the idea for what became Aphrodite's Pie Shop. It opened in 2003, and quickly expanded the restaurant next door, both with the goal of bringing the goodness of the farm to people in the city. He called it Aphrodite's, because love was the inspiration for it all, from the menu and service, to the community and planet. Allan passed away in 2008, and his daughter Peggy Vogler dedicated herself to keeping her father's legacy alive. Since Peggy took over the business, the Aphrodite's community has continued to thrive and has grown larger and stronger every year, with more people in Vancouver dedicated to eating wild, local and sustainable food than ever before.
Aphrodite's is committed to sourcing their ingredients from small farms and producers in and around BC and the Lower Mainland. The produce comes directly from micro-farms like Glen Valley Farm Co-op, Zeebroff Organic Farm, Rehoboth Farms, Olera Farms, Sole Food Street Farm, or from Discovery Organics. The famous Aphrodite's pies are handmade with 100% local organic ingredients. Aphrodite's is not only home to the sustainable food movement, but also supports local artists, charities and non-profits. Although Allan is no longer with us, his passion for bringing local, organic food and products to the city lives on, bigger and bolder than ever before. For Aphrodite's, it's bigger than pie.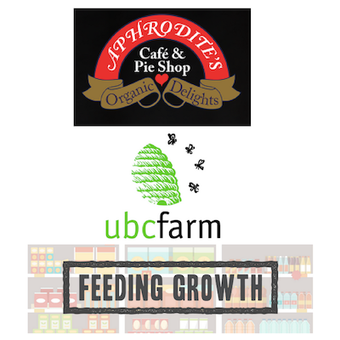 3605 W 4th Ave, Vancouver, BC V6R, Canada