B.C. Buy Local Week (November 30–December 6, 2020) is an annual celebration of the unique contributions that B.C. businesses make to our economy. They strengthen the social fabric and donate to local causes. They provide great jobs, and support local service providers, keeping money circulating in the community. Consumers love local and B.C. Buy Local Week helps showcase B.C. local owned businesses, and B.C. local grown and local made products found in stores everywhere. Help us amplify the campaign. Share the graphics, tell us how you're local, and participate in our contest. Check out our partner contests in communities across B.C. (below).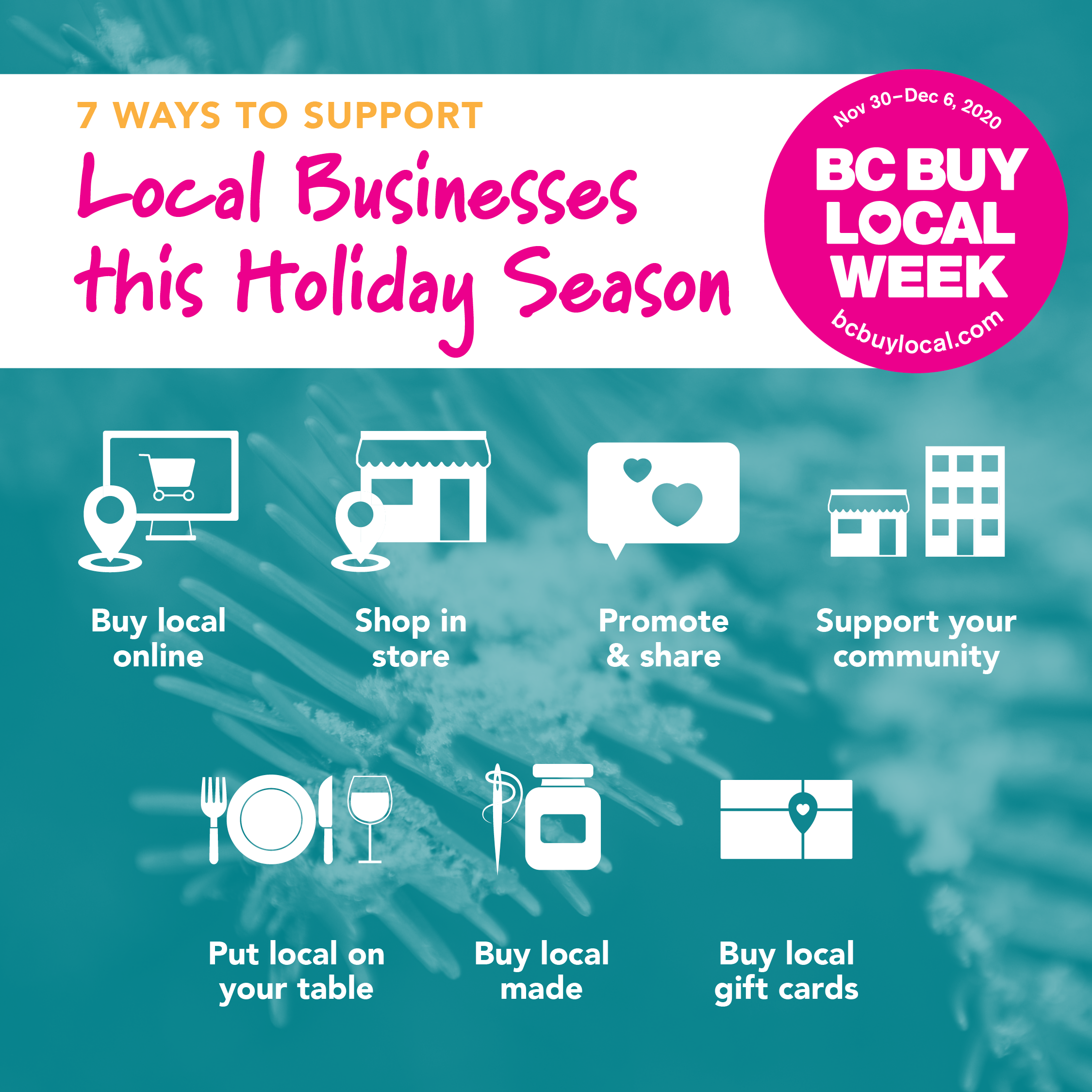 BC Buy Local Week Contests
BC Buy Local Promote & Share Contest: Win one of ten $50 gift certificates from Support Local BC, The Local Gift Card or Island Comeback when you promote and share November 30th to December 6th. Share how you're supporting local businesses this season, tag your favourite local businesses, and tag your friends to join the campaign.
To enter:
Sign up for LOCO's mailing list. Go to LOCO BC's homepage and enter your email under "Stay in Touch" towards the bottom. We don't send many emails!

Choose "BC Buy Local Updates"
We'll contact you via email and send you a gift certificate applicable to many businesses in your area. You must answer your email to collect your prize within 7 days or it will be reissued to another winner.
Downtown Vancouver BIA: Check out "A Very #DowntownVan Holiday Giveaway!" The DVBIA is giving away 12 days of gifts (totaling over $5,000!) to 12 lucky winners. Enter on instagram.
Township of Langley Tourism: To celebrate Buy Local Week Nov 30 – Dec 6, we will be shining the spotlight on small local businesses in all 6 of our Township communities. We are grateful to all businesses for supporting and serving our community! Comment each day on Facebook and Instagram for the chance to win 1 of 2 Locally-Sourced Goodie Boxes each valued at $150 made possible by Tourism Langley and by PositiveEyedentities. Want to buy a Goodie Box? Visit tourism-langley.ca for details.
Other Promotions
Modo: Get $50 worth of drive time for new members from B.C.'s pioneering car sharing co-op.
Fresh Prep: Get 75% off your first week when you sign up for the 2-person + 2 recipe plan!
Sunshine Coast Credit Union: Between November 30 and December 30, 2020, we invite you to enjoy a one-time $10 discount when you purchase a $50+ gift card* from a Sunshine Coast business through @supportlocal.bc website. Use Promo Code: ShopCoastalBankLocal
Did we forget something? Let us know!