We're updating B.C.'s multiplier effects data, to demonstrate the economic benefit of independent businesses. Working with Civic Economics and communities across B.C., we'll demonstrate the recirculation of local spending. Our previous research shows that purchases made with local businesses circulate 2.6 times in the community, creating more jobs, supporting local suppliers and sending donations to local charities.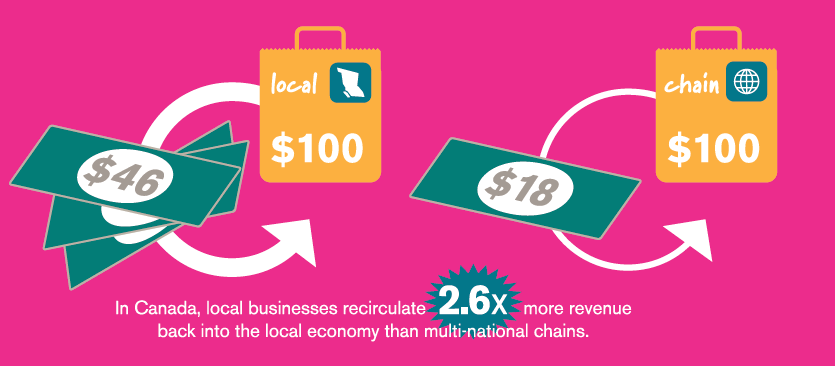 The Township of Langley, Newton BIA, Buy Social Canada and the Community Impact Real Estate Society (CIRES) (downtown eastside Vancouver area) have signed on as partners.
Our study will engage at least 10 restaurants and retailers in each study area to determine the recirculation of spending within B.C. by assessing the business' profits, payroll, purchasing and philanthropy.
Civic Economics (CE) has extensive experience in multiplier effect research, whose data have been quoted by well respected publications including The Economist and The New York Times. CE will collect business data and compare it with up-to-date recirculation data on multinational corporations, to determine the multiplier effect in B.C. Each community will also receive its own community report, and LOCO BC will conduct a deeper dive on the economic recirculation of businesses committed to local hiring and purchasing within Vancouver's downtown eastside (DTES).
If you're a business involved in the study, please fill out our survey. It gathers information on where your profits, payroll, purchasing, and philanthropy are directed. All data collected from individual businesses is completely confidential. We will only report information aggregated from each area, and B.C. as a whole.
Interested in becoming a partner community? Contact us immediately! There's not much time to gather data from retailers and restaurants before they get busy with holiday shopping.