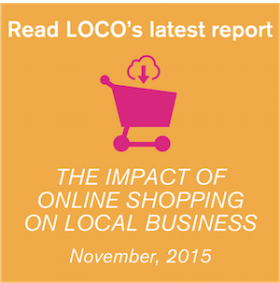 Just in time for the 4th annual BC Buy Local Week, LOCO BC launches a new research report highlighting a growing trend in online shopping, how BC businesses are competing online, and what motivates online shoppers. Here are some of the highlights from the report:
Online shopping is a growing trend in Canada. Sales are expected to double by in the next four years, from $22 Billion in 2014 to $40 Billion by 2019.

B.C. retailers cite "competition from internet retailers" as one of two top challenges they face (tied for top issue at 64% along with "big competitors receive better pricing & terms").

Very few businesses feel they are marketing themselves effectively. The majority of them are spending less than $200/year on advertising.

2 out of every 3 dollars spent online by Canadians goes to a U.S. retail website.

Cross border online shopping reduces the amount of money circulating in the local economy by up to 32%.

The higher the volume of online purchasing a consumer does, the more likely it is that they purchase with chains versus local businesses. Those whose online purchases make up less than

50% of their overall consumer spending are spending approximately equal amounts with chains as local businesses. However, those spending between 75-99% online shop with chains twice as often as with local businesses.

Consumers value local. Of Canadian consumers surveyed, 69% valued Canadian ownership as "Most Important" or "Important" when shopping. Over 50% of consumers are seeking locally made products and nearly 50% prefer to buy from companies right in their Province or City.

Consumers would spend more money online with local businesses if they offered convenient shipping, e-stores and a better consumer experience navigating their online stores.