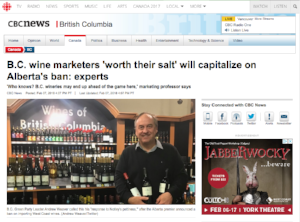 Will Alberta's move to restrict the sale of B.C. wine increase awareness of the need to support local wineries?
Alberta premiere Rachel Notley recently moved to restrict the sale of B.C. wines in response to B.C. premier John Horgan's order of additional reviews that will likely delay construction of the Kinder Morgan Trans Mountain pipeline.
In response, a viral campaign to support B.C. wineries has started, using the hashtags #ToastTheCoast #PinotNotPipelines #BCWinePledge and #BuyBCWine.
In what's shaping up to be the best protest ever, the CBC recently reported consumers including Andrew Weaver purchasing B.C. wine to support local producers in the face of decreased sales from Alberta. People across the country are jumping in to show their support, with consumers in Ontario and Quebec are emptying the shelves of B.C. wine.
Let's all support B.C. wineries and #ToastTheCoast!